Zoom the image with the mouse
Fairy Princess Ring
The Fairy Princess silver engagement ring! Enchanting, dainty yet powerful. While designing this unique ring, I tried to echo the organic and woodsy feel of a magical forest. Tiny studs surround one precious gem like dewy drops on delicate flower!

.925 Sterling Silver
1 square stone 3mm
Organically sculpted, so it's not symmetric & that's how I like it!
Stone color & antiquing will vary. No two are alike!
3 Rexes ring box included (may vary)

Ring Disclosure, Please Read:
1. Semi-precious stones are not hard like diamonds
2. Sterling silver is softer than 14kt & 18kt gold
3. Make 100% sure on your ring size
4. Antiquing and stone color will vary

Fairy Princess Ring Gallery
fairy princess engagement ring gothic black onyx stone 925 sterling silver medieval jewelry
fairy princess engagement ring gothic garnet stone 925 sterling silver medieval jewelry january birthstone
fairy princess engagement ring gothic blue topaz stone 925 sterling silver medieval jewelry december birthstone
fairy princess engagement ring gothic cirtine stone 925 sterling silver medieval jewelry november birthstone
fairy princess engagement ring pink cz stone 925 sterling silver medieval jewelry with studs
fairy princess engagement ring gothic garnet stone 925 sterling silver medieval jewelry
silver fairy princess engagement ring amethyst stone 925 sterling medieval jewelry with studs
fairy princess engagement ring gothic green peridot stone 925 sterling silver medieval jewelry
silver fairy princess engagement ring gothic promise ring 925 sterling silver medieval jewelry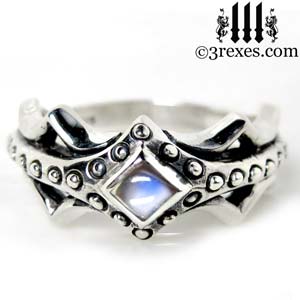 f
airy princess engagement ring gothic moonstone 925 sterling silver medieval jewelry
The Fairy Princess silver engagement ring! Enchanting, dainty yet powerful. While designing this unique ring, I tried to echo the organic and woodsy feel of a magical forest. Tiny studs surround one precious gem like dewy drops on delicate flower!

.925 Sterling Silver
1 square stone 3mm
Organically sculpted, so it's not symmetric & that's how I like it!
Stone color & antiquing will vary. No two are alike!
3 Rexes ring box included (may vary)

Ring Disclosure, Please Read:
1. Semi-precious stones are not hard like diamonds
2. Sterling silver is softer than 14kt & 18kt gold
3. Make 100% sure on your ring size
4. Antiquing and stone color will vary

Fairy Princess Ring Gallery
fairy princess engagement ring gothic black onyx stone 925 sterling silver medieval jewelry
fairy princess engagement ring gothic garnet stone 925 sterling silver medieval jewelry january birthstone
fairy princess engagement ring gothic blue topaz stone 925 sterling silver medieval jewelry december birthstone
fairy princess engagement ring gothic cirtine stone 925 sterling silver medieval jewelry november birthstone
fairy princess engagement ring pink cz stone 925 sterling silver medieval jewelry with studs
fairy princess engagement ring gothic garnet stone 925 sterling silver medieval jewelry
silver fairy princess engagement ring amethyst stone 925 sterling medieval jewelry with studs
fairy princess engagement ring gothic green peridot stone 925 sterling silver medieval jewelry
silver fairy princess engagement ring gothic promise ring 925 sterling silver medieval jewelry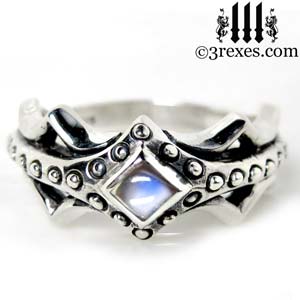 f
airy princess engagement ring gothic moonstone 925 sterling silver medieval jewelry
Customer Reviews
Straight out of the Middle Ages. Thick yet somehow dainty. My #1 ring in my collection. Thank you!

my fairy ring is perfect!

My fairy ring is perfect! Thank you 3 Rexes!

Beautiful and prompt!

5 stars ALICE

My BF surprised me with this ring. I have been wanting it all year. The Fairy feels great on my finger. It actually has weight, but still it's a small ring. I got the green stone

I bought this as a gift, and now I'm considering keeping it for myself. What should I do? Maybe I'll buy another one? She is so pretty in person!

Received on time and it was beautiful My fiancee loved it. Thank you so much. You made the day even more special. Thank you! DARK

Best online shopping experience ever. Great response time to emails and fast shipping. Thank you.

Killer Product, Rare Form, Good Quality!

Looks great, it's heavy like a good product should be, nice hand crafted characteristics, and super fast delivery!

My wife and I bought them as our wedding rings. She even resized them for us. I love love love this shop!! TRISHA

A very nice ring that is so much better in the flesh, Shipment to the UK was quick and efficient a little bit of import tax paid to the postman but all in all a great shop who are great to deal with

Fairy Princess Black Onyx

I am EXSTATIC! This right is so stunning in person. It's so so beautiful! The perfect thing for my beloved. It came a little bit too big, but I fully admit that I probably asked for the wrong size haha. ThreeRexes did a phenomenal job making this ring. It arrived very quickly and in perfect condition. 10/10 I definitely recommend them. MACEY J.

gorgeous rings, fast shipping, great customer service, lovely transaction S.L.

Very nice, you can tell it is well crafted

Very pretty, well made, and unique. The sizes and stone quality are my only gripes, and they are not major gripes. I ordered it larger because my wife's size was not available, so I will get it resized at a jeweler. The stone quality varies and mine was a shade paler than what was advertised, but that goes to show how uniquely made each one is, no two rings will be the same- which they explain to you on purchase. Excellent ring, looking to buy from 3rexes again. MARK

Fairy Princess Ring - My wife loved getting this for her birthday, and, as she herself will admit, she can be very difficult to impress. Definitely recommend 3Rexes to anyone looking for a punkish ring.