Medieval Gothic Heart ring adorned with silver studs. Inspired by Alice & her unusual journeys through the looking glass! Fit for any Queen, Princess or Peasant Girl!
.925 sterling silver
Front 5/8" Tall, Back 1/4", 2mm Thick
Consider 1/2 size larger due to wide band
I recommend wearing this beauty on your middle finger, it's very comfortable to wear!
3 Rexes ring box included (may vary)
Ring Disclosure, Please Read:
1. Sterling silver is softer than 14kt & 18kt gold
2. Make 100% sure on your ring size
3. Antiquing will vary. No two are alike!

Medieval Studded Heart Ring Gallery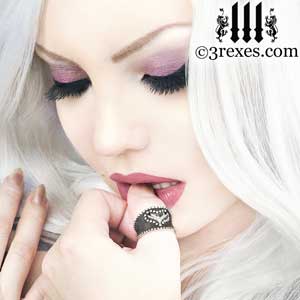 Ladies
Medieval Studded Heart Ring .925 Sterling Silver Gothic Wide Band
Ladies
Medieval Studded Heart Ring .925 Sterling Silver Gothic Wide Band
Ladies Medieval Studded Heart Ring .925 Sterling Silver Gothic Wide Band
Ladies Medieval Studded Heart Ring .925 Sterling Silver Gothic Wide Band Back Detail
Medieval Studded Heart Ring .925 Sterling Silver Gothic Wide Band
Medieval Studded Heart Ring .925 Sterling Silver Gothic Wide Band Side Detail
Medieval Studded Heart Ring .925 Sterling Silver Gothic Wide Band Detail
Ladies
Medieval Studded Heart Ring .925 Sterling Silver Gothic Wide Band