Gothic silver studs surround three mystical stones, symbolizing gold, myrrh and frankincense.The 3 Kings ring is inspired by the wedding rings worn by Medieval Royalty.
Attn: The 3 Kings ring is a 'very' thick and wide ring, so you want to make sure you know your size for a wide and thick ring vs a thin band. I usually suggest 1/2 -3/4 larger from a thin band ring size.
.925 sterling silver
Almost 1/2" (11mm) tall
3 Stones 3.5mm & 5mm
Consider min 1/2 size larger due to thickness
Stone color & antiquing will vary. No two are alike!
3 Rexes ring box included (may vary)
Ring Disclosure, Please Read:
1. Semi-precious stones are not hard like diamonds
2. Sterling silver is softer than 14kt & 18kt gold
3. Make 100% sure on your ring size
4. Antiquing and stone color will vary
Gothic rings for men by 3 Rexes Jewelry
3 Kings Ring Gallery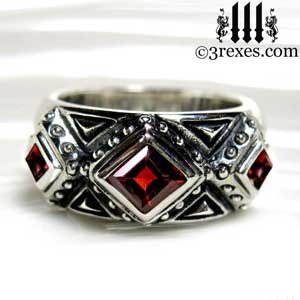 3 Kings Silver Ring with red garnet stones
3 Kings Silver Ring with red garnet stones logo detail
3 Kings Silver Ring with black onyx stones
3 Kings Silver Ring with white cz stones
3 Kings Silver Ring with green peridot stones model detail
3 Kings Silver Ring with green peridot stones black ring box
Beautiful rings. We both love them.

3 Kings with green peridot stone

This ring is absolutely beautiful and my fiancé loves it even more now that he has it.

Absolutely lovely ring! I can't wait to surprise my husband with it! Great shop to work with, can't wait to be a return customer. Thanks for everything!!

The ring is just what we were loooking for. Artist very clearly explained her process & what to expect. Stayed in regular communication with us throughout the process. Although a wait was necessary it was far less than the search for this wonderful item! She also provided some extremely useful advice. Would not hesitate to buy again from 3 Rexes. Excellent quality with professional handling. Only wish all my transactions went this way.

3 kings garnet gothic wedding ring

I bought one of these for my husband as a wedding ring. He loves big rings and red stones and wanted something non-traditional, so I bought that one. The company was great to work with....she only had a size 11 left but said I could get it resized to a 12 which is what I needed. I didn't have time to wait for a 12 to be made. I took it to a silver smith who was doubtful of the quality of the ring. However as he tapped it and then stretched it to size and repolished it, he said "Wow, ALL my misgivings about this ring are gone". (he had several). "It is very well made". Turns out it was so well done he thought it was a factory made hollow ring lol. He said they must have a great setup to get that quality. Anyway, it is not too wide for my hubby but it is quite thick so I have to wait til our wedding date in August to see if it is comfortable on his finger (the ring is a surprise). Very pleased with the service too! CAROL

This was a beautifully, well crafted piece of jewellery. My husband loved it. However, he works in construction and was going to wear it in place of his wedding ring, but with the width and jutting out details we needed to send it back because it would have gotten in the way ( we thought it may work from the pictures but he just wasn't comfortable once he tried it on.) Tara was incredibly understanding and she worked with us every step of the way. I have bought a couple rings from Tara and get complimented on them wherever I wear them. She has one of a kind items and I definitely recommend her store to anyone shopping for unique, well priced, well made jewellery.

3 KINGS GOTHIC WEDDING RING

Great ring; thank you very much

3 Kings Gothic Ring This is an absolutely astounding ring

Excellent craftsmanship, beautiful design and top quality material have come together to form something of elegance and power. I wouldn't hesitate to recommend this shop or Tara's designs to anyone with a taste for Gothic or the extraordinary. SETSUNA S.

The best way I can sum this review up is this: Quality. Quality in craftsmanship. Beautiful rings. Great value for what you get. Even the packaging in comes in is impressive and just symbolic of how 3Rexes wants to give you the utmost for your money. I bought 2 rings. They will be for our wedding and both of us are amazed with the quality. In finishing, the speed of delivery was better than virtually anything out there. Took under a week (I believe was a mere 4 days) to arrive. ANTHONY MONTANA

***** Sven

Medieval Silver Band 3 Kings

Excellent work of art. Outstanding band ring for any man. Worth the value! PETER J FLICKINGER

this ring is gonna be for my soon to be husband. Tara is an awesome woman who has an awesome gift for making beautiful rings like this one. I am extremely happy with the design that she has made. You go, Tara!