Gothic silver studs surround three mystical stones, symbolizing gold, myrrh and frankincense. The 3 Kings ring is inspired by the wedding rings worn by Medieval Royalty.
Attn: The 3 Kings ring is a 'very' thick and wide ring, so you want to make sure you know your size for a wide and thick ring vs a thin band. I usually suggest 1/2 -3/4 larger from a thin band ring size.
.925 sterling silver
Almost 1/2" (11mm) tall
3 Stones 3.5mm & 5mm
Consider min 1/2 size larger due to thickness
Stone color & antiquing will vary. No two are alike!
3 Rexes ring box included (may vary)
Ring Disclosure, Please Read:
1. Semi-precious stones are not hard like diamonds
2. Sterling silver is softer than 14kt & 18kt gold
3. Make 100% sure on your ring size
4. Antiquing and stone color will vary
Gothic rings for men by 3 Rexes Jewelry
3 Kings Ring Gallery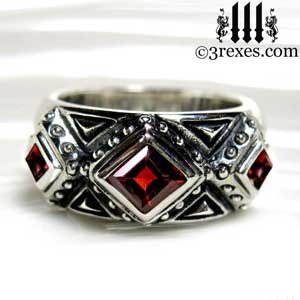 3 Kings Silver Ring with red garnet stones
3 Kings Silver Ring with red garnet stones logo detail
3 Kings Silver Ring with black onyx stones
3 Kings Silver Ring with white cz stones
3 Kings Silver Ring with green peridot stones model detail
3 Kings Silver Ring with green peridot stones black ring box
Well made, Unique, solid design

The king was very happy. Thank you for making our special day even more special! Thank you. KING BRET

The Devil is in the Details

Wow! Unique and worth every penny!

The 3 Kings is even better in person. It could easily be 2x the price and the value would still be worth it.

Fast shipping! Thank You!!!

received my BEAUTIFUL ring today for my fiance, we love it!

I've been wearing my Kings ring for over a year. I thought I would come back to let you know that I'm still satisfied. I like my rings thick.

By far the greatest ring I've ever owned. Be sure to compensate for the very thick band.

Been wearing my 3 Kings for a few months already. I am happy to say that I have no regrets.

Beautiful rings. We both love them.

3 Kings with green peridot stone

This ring is absolutely beautiful and my fiancé loves it even more now that he has it.

Absolutely lovely ring! I can't wait to surprise my husband with it! Great shop to work with, can't wait to be a return customer. Thanks for everything!!

The ring is just what we were loooking for. Artist very clearly explained her process & what to expect. Stayed in regular communication with us throughout the process. Although a wait was necessary it was far less than the search for this wonderful item! She also provided some extremely useful advice. Would not hesitate to buy again from 3 Rexes. Excellent quality with professional handling. Only wish all my transactions went this way.