Silver Rose Moon Spider Ring
Zoom the image with the mouse
Silver Rose Moon Spider Ring
Silver Rose, Moon, Spider Ring! This magical dream ring has a blooming rose, smiling crescent moon and a whimsical spider. Each holding their own tiny round stone. Fits best on the ring finger on your right hand.

.925 sterling silver
3 stones (cabochon or faceted)
Rose & Moon measure a tad under 1/2" Spider measures 1/2"
Worn best on the right hand ring finger
Stone color and antiquing will vary. No two are alike!
3 Rexes ring box included (may vary)

Ring Disclosure, Please Read:
1. Semi-precious stones are not hard like diamonds
2. Sterling silver is softer than 14kt & 18kt gold
3. Make 100% sure on your ring size
4. Antiquing and stone color will vary
Silver Rose Moon Spider Ring

Gallery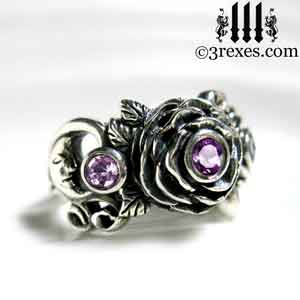 silver rose moon spider ring with purple amethyst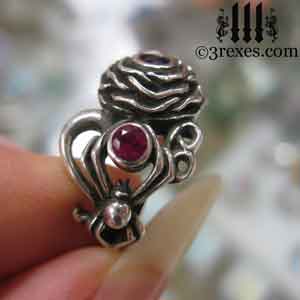 silver rose moon spider ring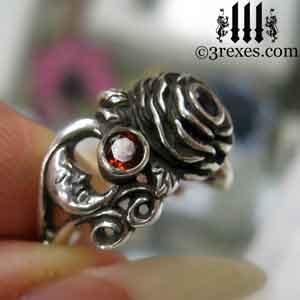 silver rose moon spider ring with gothic garnet
silver rose moon spider ring with blue topaz stones
silver rose moon spider ring with blue topaz stones spider detail
silver rose moon spider ring with blue topaz stones magic moon detail
silver rose moon spider ring with green peridot stones
silver rose moon spider ring with gothic garnet stones
sterling silver rose moon spider ring with blue moonstones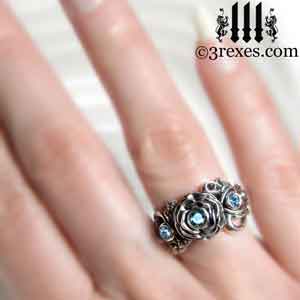 silver rose moon spider ring with blue topaz stones ring finger
silver rose moon spider ring with black onyx cabochon stones
silver rose moon spider ring with black onyx cabochon stones moon side detail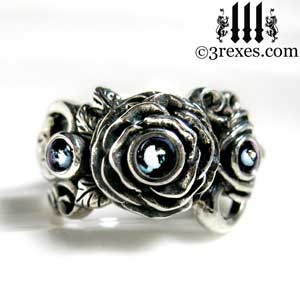 womens silver rose moon spider ring with blue topaz cabochon stones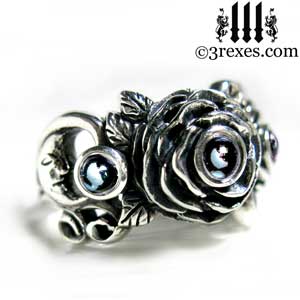 sterling silver rose moon spider ring with blue topaz cabochon stones woodland fairytale jewelry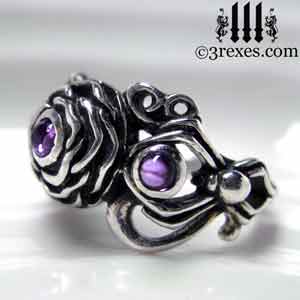 silver spider ring with with amethyst cabochon stones woodland fairytale jewelry
Silver Rose, Moon, Spider Ring! This magical dream ring has a blooming rose, smiling crescent moon and a whimsical spider. Each holding their own tiny round stone. Fits best on the ring finger on your right hand.

.925 sterling silver
3 stones (cabochon or faceted)
Rose & Moon measure a tad under 1/2" Spider measures 1/2"
Worn best on the right hand ring finger
Stone color and antiquing will vary. No two are alike!
3 Rexes ring box included (may vary)

Ring Disclosure, Please Read:
1. Semi-precious stones are not hard like diamonds
2. Sterling silver is softer than 14kt & 18kt gold
3. Make 100% sure on your ring size
4. Antiquing and stone color will vary
Silver Rose Moon Spider Ring

Gallery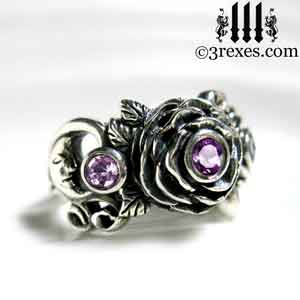 silver rose moon spider ring with purple amethyst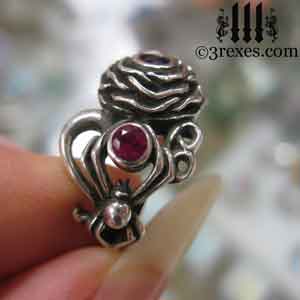 silver rose moon spider ring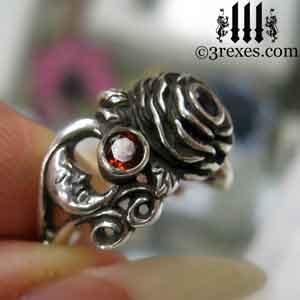 silver rose moon spider ring with gothic garnet
silver rose moon spider ring with blue topaz stones
silver rose moon spider ring with blue topaz stones spider detail
silver rose moon spider ring with blue topaz stones magic moon detail
silver rose moon spider ring with green peridot stones
silver rose moon spider ring with gothic garnet stones
sterling silver rose moon spider ring with blue moonstones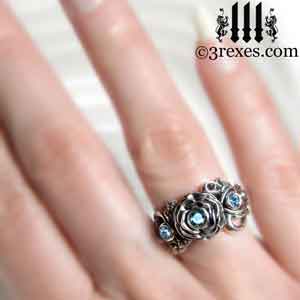 silver rose moon spider ring with blue topaz stones ring finger
silver rose moon spider ring with black onyx cabochon stones
silver rose moon spider ring with black onyx cabochon stones moon side detail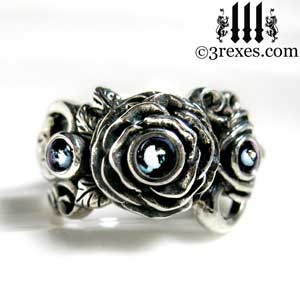 womens silver rose moon spider ring with blue topaz cabochon stones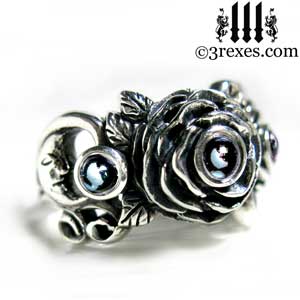 sterling silver rose moon spider ring with blue topaz cabochon stones woodland fairytale jewelry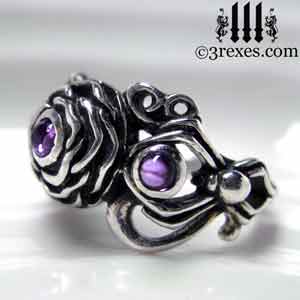 silver spider ring with with amethyst cabochon stones woodland fairytale jewelry
Customer Reviews
Silver Rose Moon Spider Ring with Garnet Stones

Bought this as my wedding band and I can hardly wait to start wearing it, it is so beautiful! It is very high quality and fits perfectly. It is just a wonderful, unique ring. SABRINA

Absolutely gorgeous, arrived very swiftly.

plan to purchase more from you.