Silver Rose Moon Spider Ring
Zoom the image with the mouse
Silver Rose Moon Spider Ring
Silver Rose, Moon, Spider Ring! This magical dream ring has a blooming rose, smiling crescent moon and a whimsical spider. Each holding their own tiny round stone. Fits best on the ring finger on your right hand.

.925 sterling silver
3 stones (cabochon or faceted)
Rose & Moon measure a tad under 1/2" Spider measures 1/2"
Worn best on the right hand ring finger
Stone color and antiquing will vary. No two are alike!
3 Rexes ring box included (may vary)

Ring Disclosure, Please Read:
1. Semi-precious stones are not hard like diamonds
2. Sterling silver is softer than 14kt & 18kt gold
3. Make 100% sure on your ring size
4. Antiquing and stone color will vary
Silver Rose Moon Spider Ring

Gallery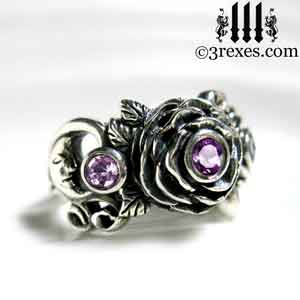 silver rose moon spider ring with purple amethyst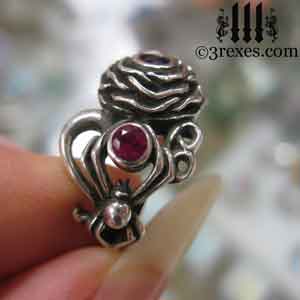 silver rose moon spider ring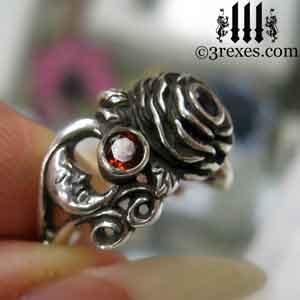 silver rose moon spider ring with gothic garnet
silver rose moon spider ring with blue topaz stones
silver rose moon spider ring with blue topaz stones spider detail
silver rose moon spider ring with blue topaz stones magic moon detail
silver rose moon spider ring with green peridot stones
silver rose moon spider ring with gothic garnet stones
sterling silver rose moon spider ring with blue moonstones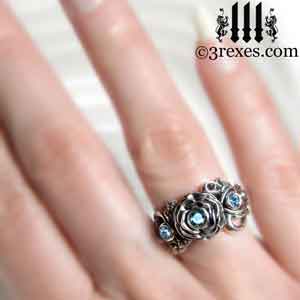 silver rose moon spider ring with blue topaz stones ring finger
silver rose moon spider ring with black onyx cabochon stones
silver rose moon spider ring with black onyx cabochon stones moon side detail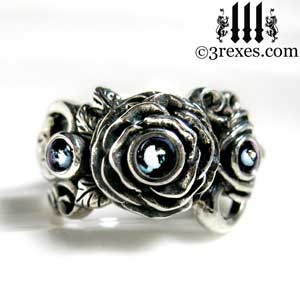 womens silver rose moon spider ring with blue topaz cabochon stones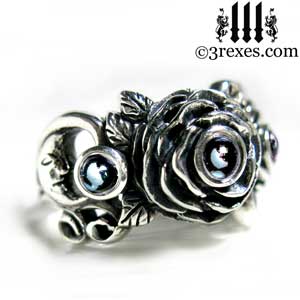 sterling silver rose moon spider ring with blue topaz cabochon stones woodland fairytale jewelry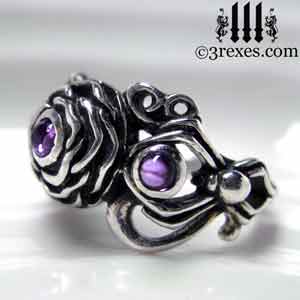 silver spider ring with with amethyst cabochon stones woodland fairytale jewelry
Silver Rose, Moon, Spider Ring! This magical dream ring has a blooming rose, smiling crescent moon and a whimsical spider. Each holding their own tiny round stone. Fits best on the ring finger on your right hand.

.925 sterling silver
3 stones (cabochon or faceted)
Rose & Moon measure a tad under 1/2" Spider measures 1/2"
Worn best on the right hand ring finger
Stone color and antiquing will vary. No two are alike!
3 Rexes ring box included (may vary)

Ring Disclosure, Please Read:
1. Semi-precious stones are not hard like diamonds
2. Sterling silver is softer than 14kt & 18kt gold
3. Make 100% sure on your ring size
4. Antiquing and stone color will vary
Silver Rose Moon Spider Ring

Gallery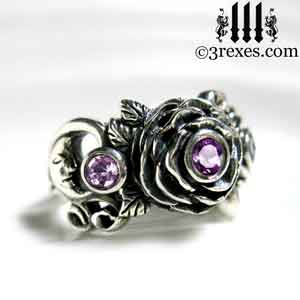 silver rose moon spider ring with purple amethyst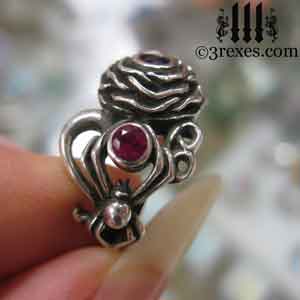 silver rose moon spider ring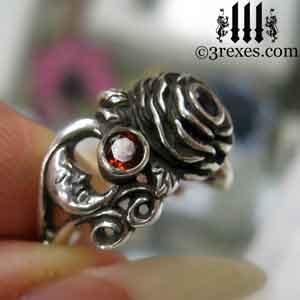 silver rose moon spider ring with gothic garnet
silver rose moon spider ring with blue topaz stones
silver rose moon spider ring with blue topaz stones spider detail
silver rose moon spider ring with blue topaz stones magic moon detail
silver rose moon spider ring with green peridot stones
silver rose moon spider ring with gothic garnet stones
sterling silver rose moon spider ring with blue moonstones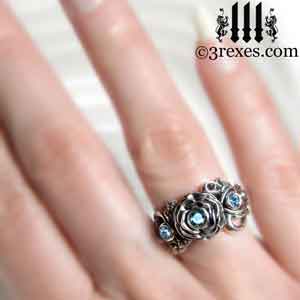 silver rose moon spider ring with blue topaz stones ring finger
silver rose moon spider ring with black onyx cabochon stones
silver rose moon spider ring with black onyx cabochon stones moon side detail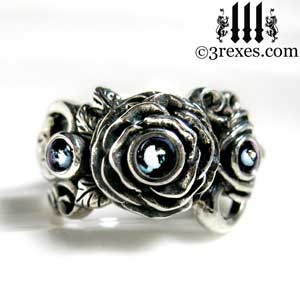 womens silver rose moon spider ring with blue topaz cabochon stones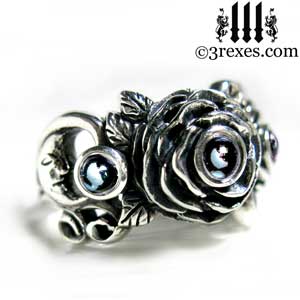 sterling silver rose moon spider ring with blue topaz cabochon stones woodland fairytale jewelry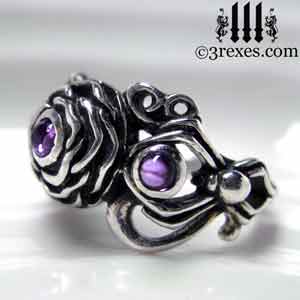 silver spider ring with with amethyst cabochon stones woodland fairytale jewelry
Customer Reviews
This ring is so gorgeous!

This ring is so gorgeous! I communicated with the seller when I'd ordered the wrong size and she was able to get it sized up for me. I am so grateful because I love wearing this ring. Communication was a breeze. She kept me up to date on when it could be sized and then likely would be shipped. The ring arrived faster than I'd expected and is amazing in person. I love how it catches the light and the small peridot stones fill with it. I love the spider and the moon with the rose. Wonderful symbolism in one ring. High-quality craftsmanship. The packaging was beautiful. I highly recommend 3RexesJewelry! Thank you so much for this one-of-a-kind beauty and your wonderful customer service.

plan to purchase more from you.

Five Stars for Customer Service and Jewelry Both

I have wanted the Rose, Moon and Spider Ring from 3 Rexes since I discovered the jeweler on Etsy in 2012 or 2013. I am finally in the financial position to be able to have commissioned one set with my favorite stones- smoky quartz. Unfortunately, some serious issues occurred during shipping. The package disappeared- twice. I finally received it yesterday. I LOVE my new ring. It's absolutely stunning! But I can't help but think that a business owner who goes to such lengths that Tara, the owner/designer/human being extrordinaire at 3 Rexes, went to in order to ensure that I received my ring and that I was happy is just as amazing. After the first custom made ring was lost in shipping, she dealt with (i.e.,spent hours in as state of frustration) all the red tape and secured an insurance claim to replace it. When the *second* ring disappeared in the shipping process, she started the process over again- but this time, after calling my post office directly, the package was miraculously (cue eye roll) found and delivered to me. She was never impatient with me and reassured me that, no matter what, I'd get my ring. I can't recommend 3 Rexes enough. The way she dealt with an unpredictable and frustrating situation was fantastic, a true example of above and beyond. They've earned a loyal customer for life.

I wear my spider ring everyday. Thank you for creating such a beautiful piece.

Excellent customer support, amazing ring

...highly recommend 3Rexes. My fiancée was thrilled by it.

It was tough to choose between the full moon and this ring. I chose this ring because I love the spider. Very sweet and pretty

Silver Rose Moon Spider Ring Just gorgeous!!

And thank you so so much!! The pink CZ really works well MILENA

Rose Moon Spider Ring with Garnet

This ring feels like it was made for me. Tara's service was top notch from start to finish and was so helpful with making sure I had the correct size. I love this ring so much and I'm not planning on taking it off anytime soon

Fantastic quality workmanship absolutely love it BRIAN

I bought this ring to go for my wedding for my husband. He is a bigger side than the one shown, but the seller was marvelous to work with, and got the ring sized for us, so that we could get the ring still. This was perfect for our needs, and it held the stones that are my birthstone, and mine will hold his. I'm super grateful to have had the pleasure of working with this seller. JENNIFER VARNADORE

As soon as you put it on you know you're not wearing a piece of "cookie cutter' jewelry. I always get compliments whenever I'm wearing this piece of art!! JENNIFER

From the first communication right to the very day I received my ring nothing but excellent support and service. Very accommodating to all my personal requests and exceptional quality. Tara kept me updated on the progress of my ring through out the whole process. Made my ring custom to my needs, and now I have the most beautiful and unique family ring ever!!! The quality is amazing I was in shock when I opened the box, the detail and how perfect everything was. Thank you so much, for the amazing experience and I totally recommend 3Rexes to anyone!! RUSHEL

Brilliant! It's the perfect gothic engagement ring! Thank you MANDY

Silver Rose Moon Spider Ring Gothic Garnet

This is just beautiful. Lots and lots of unique personality and like nothing I've ever seen. The moon and the spider are subtle but I love knowing they are there. This designer is wonderful. I can't wait to buy again! HANNAH

Gorgeous ring, seller is great to work with!