The wicked bone band is the star of this unique piece! I was heavily inspired by Victorian Gothic jewelry and the skulls that were used on everyday objects like pipes, purses, pill cases, canes and Masonic jewelry.
From my 3 Rexes Relic line. I wanted to echo the essence of a lost pirate ring found in a treasure chest deep within the sea!
PLEASE NOTE:
1) The dark patina is temporary (see details below)
2) Each piece is unique so the finish will look different from the product pictures
Front height is 7/8" (less than an 1")
Smooth back height 3/8"
Consider 1/2 size larger due to wide band
Antiqued brass (see below for info & care)
3 Rexes ring box included (may vary)
INFO & CARE: I antiqued this brass ring using a turn of the century technique called fuming. I'm able to achieve deep rich colors, which can range from dark olive browns to highlights of luscious yellow and reds. There may also be tiny hints of green verdigris, with the raw brass peeking through in some areas! I then buffed the ring with a jewelers grade museum quality wax. This wax will "help" preserve the color and patina. The color may slowly change over time... herein lies the mystical beauty of this natural process called oxidation. PATINA CARE: Please avoid harsh chemicals, soaps, sweating, hot water, etc., as this may remove the wax sealer.

ATTN Please Read Disclosure:
1. Antiquing will vary
2. The brass patina can change over time
3. Please be sure on your ring size for a wide band
4. Please make sure you are fine with brass before purchasing. Brass is alloyed with copper so it can cause skin discoloration in a certain percentage of the population. As with any metal (brass, silver & gold), discoloration can be caused by the pH level in your body. There are products that you can purchase to seal the jewelry (similar to clear nail polish). Please contact me for recommendations.

Please ask all questions prior to purchase, thanks!
Skull Biker Ring Pirate Bones Gallery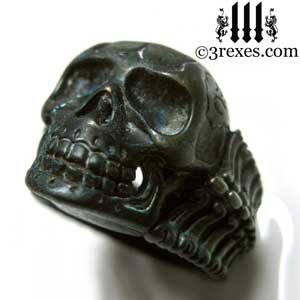 mens black skull ring brass biker bone band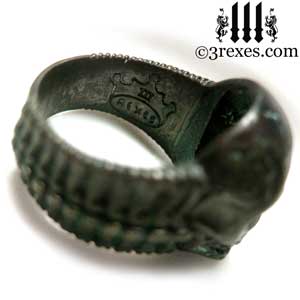 mens black skull ring brass biker bone band side detail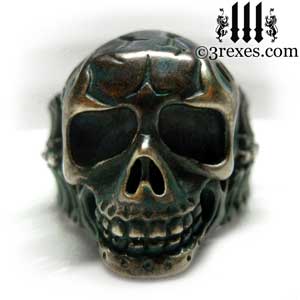 mens black skull ring brass biker bone band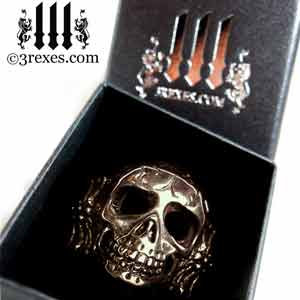 mens black skull ring brass biker bone band in prestige box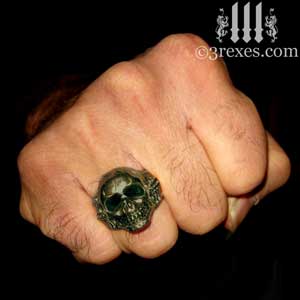 mens pirate skull ring brass biker bone band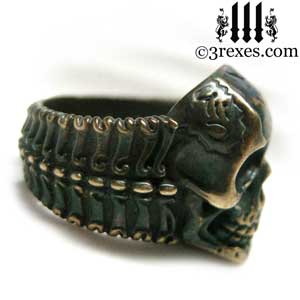 mens pirate skull ring brass biker bone band side detail
mens pirate skull ring brass biker bone band side detail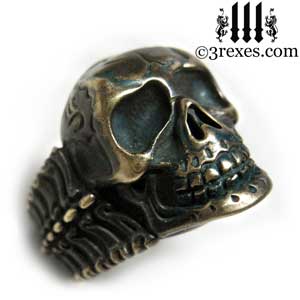 mens pirate skull ring brass biker bone band